Description
Allergy Medicine Cetirizine Uses and Indications: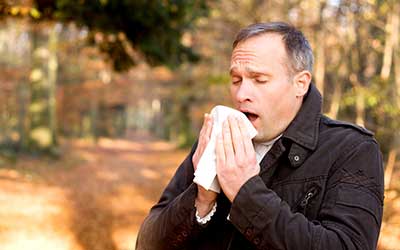 Reactine is an antihistamine that helps in treating seasonal allergy symptoms that cause you to suffer from itchy, watery eyes, a runny nose, hives, sneezes, and itching all over the body. When one's body comes in contact with things that trigger their allergies, the body then produces a chemical called histamine. This chemical then causes the tissues in one's nose area to swell up and cause the eyes to run. Antihistamine drugs help by reducing and blocking these histamines. Cetirizine 5 mg is one of the different types of antihistamines available. Do bear in mind that this medication cannot prevent or treat any serious allergic reaction, such as hives.
The medicine is available for purchase online at Canada Pharmacy.
Directions
This medication is available in different forms. If you're using
Chewable tablets, then chew the entire tablet thoroughly and then swallow
The rapidly-dissolving tablet, place on the tongue let it dissolve and then swallow (you can use water if you want to)
For syrup, measure the correct dosage using a measuring spoon
The dosage depends on your age, your condition, and your response to the treatment. Your doctor may initially prescribe you a lower dose and later may increase it if required.
Ingredients
The active ingredient present in Reactine 5mg medicine is of Cetirizine HCl.
Cautions
To ensure your safety, please inform your doctor if you are either allergic to hydroxyzine or levocetirizine or if you have any of the conditions listed:
If you are pregnant, planning to become pregnant, or are breastfeeding
Have any allergy
Enlarged prostate
Kidney disease
Liver disease
Diabetes
Before undergoing any surgery, inform your doctor if you're using this medication. This medication may make you feel drowsy; hence, it is advisable to avoid alcohol and marijuana when taking this medication. Avoid doing any such activity that requires you to remain alert such as driving.
Side Effects
Seek medical help if you have any signs of an allergic reaction to allergy medicine Cetirizine.
Some side effects include:
Drowsiness
Dizziness
Fatigue
Dry mouth
Abdominal pain
Rashes
Swelling of face, throat, and tongue
Difficulty in urinating
Trouble in breathing
The side effects mentioned are not all the potential side effects that one may face.
IMPORTANT NOTE: The above information is intended to increase awareness of health information and does not suggest treatment or diagnosis. This information is not a substitute for individual medical attention and should not be construed to indicate that use of the drug is safe, appropriate, or effective for you. See your health care professional for medical advice and treatment.
Product Code : 54