Description
What is Tapazole Used For?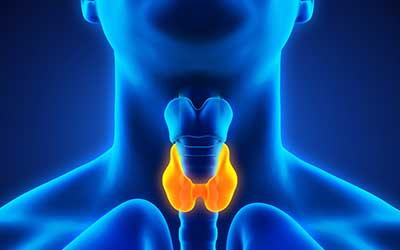 Tapazole belongs to the group of medication known as anti-thyroid medications. As the name suggests, this medication is used to treat hyperthyroidism, also known as the overactive thyroid gland. Hyperthyroidism is a condition in which one's thyroid gland becomes overactive and starts making excessive amounts of the thyroid hormones. The thyroid gland helps in releasing hormones that help in controlling one's metabolism, heart rate, nervous system, breathing, body temperature, weight, etc. However, when this gland is overactive, all of the functions speed up, causing one to suffer from anxiety, nervousness, rapid heartbeat, tremor, excessive sweating, weight loss, insomnia, etc. Methimazole prevents the over-production of thyroid hormone.
This medicine is available in two dosages; methimazole 5mg and methimazole 10mg. You can purchase Tapazole online at Canada Pharmacy for the best price.
Directions
You will take these Methimazole tablets orally; you can take them with a meal or a snack. Follow the directions according to your doctor's prescriptions. Your doctor may initially prescribe you a smaller dose and may later increase it depending on your condition and how you're responding to the treatment. This medication is to be taken three times a day, after every eight hours. Do not increase or decrease the amount of dosage you are taking until your doctor asks you to do so. To get the most benefit from this drug, you need to take it regularly, at the exact scheduled time.
Ingredients
The active ingredient present in Tapazole is Methimazole.
Cautions
To ensure your safety, inform your doctor if you have any of the conditions listed:
If you are pregnant, planning to become pregnant, or are breastfeeding
Allergic
A history of blood disorders
Liver disease
If you're undergoing any surgery, make sure to let your doctor know if you're using this prescription drug.
Side Effects
Seek medical help if you happen to notice any signs of an allergic reaction to Methimazole. Some possible side effects include:
Upset stomach
Nausea
Vomiting
Rashes
Abdominal pain
Yellowing eyes and skin
Dark urine
Muscle pain
Kidney problems
Blood disorder
A persistent sore throat
Bruising
Fatigue
Itching
Swelling of face, throat, and tongue
Dizziness
Troubled breathing
The list above does not mention all of the possible side effects you may experience.
IMPORTANT NOTE: The above information is intended to increase awareness of health information and does not suggest treatment or diagnosis. This information is not a substitute for individual medical attention and should not be construed to indicate that use of the drug is safe, appropriate, or effective for you. See your health care professional for medical advice and treatment.
Product Code : 1827