Description
What is Tilade CFC-Free Inhaler ?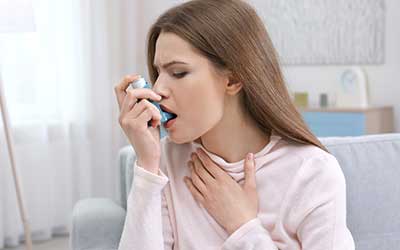 Tilade CFC-Free inhaler is a preventive inhaler that is inhaled into the lungs. It helps in the treatment of asthma by reducing inflammation in the lungs. Asthma is usually caused due to an allergy to smoke, pollen, air-borne pollution, house dust mites, or other irritants. This inhaler reduces the inflammation of airways that occur due to asthma. Regular use of this inhaler also helps to prevent asthma attacks although it is not useful in relieving the symptoms once an attack has started. This inhaler also helps to prevent coughing, shortness of breath, wheezing, and chest tightness.
You can get this inhaler from Canada Pharmacy at a great price and have it delivered right to your doorstep.
Directions
If you are using any other inhaler or a steroid, then check with your doctor first before using this inhaler. The normal starting dose for children and adults is 2 puffs taken four times a day. These puffs are usually taken before mealtime and bedtime. Your doctor may adjust the dose depending on the severity of asthma. Shake the inhaler well before using. Before using a new inhaler, release 4 puffs in the air and then inhale deeply into the mouth. If you have not used the inhaler for 3 days, then release 2 puffs into the air.
Ingredients
The active ingredient in this inhaler is nedocromil sodium.
Cautions
Do not use this inhaler if you are allergic to its ingredients. This inhaler is not recommended for use in children that are younger than 6 years of age. You may need to use this inhaler for several weeks before you can see a change in the symptoms. Use it every day even if you are feeling well. Rinse your mouth after using this inhaler as it may help to get rid of any coughing or unpleasant taste.
Side Effects
If you experience any of the following side effects consult your doctor immediately:
Stomach pain or indigestion
Headache
Mild wheezing and coughing
Feeling sick
A few people have reported an unpleasant taste in the mouth after the use of this inhaler. There have also been cases where the patient has suffered from a sore throat or throat irritation after its use.
IMPORTANT NOTE: The above information is intended to increase awareness of health information and does not suggest treatment or diagnosis. This information is not a substitute for individual medical attention and should not be construed to indicate that use of the drug is safe, appropriate, or effective for you. See your health care professional for medical advice and treatment.
Product Code : 1851