Description
Amoxicillin Drug Use and Side Effects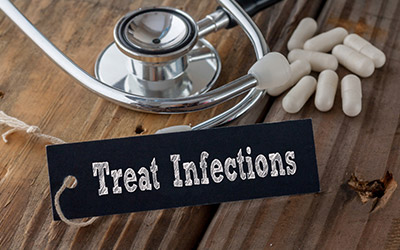 Chemical Name: AMOXICILLIN (a-mox-i-SILL-in)
Amoxicillin is an infection medicine used for the treatment of a variety of bacterial infections. It treats bladder infections, urinary tract infection (UTI), ear infection, and pneumonia.
Amoxicillin is a penicillin-type antibiotic, and it works by stopping the growth of bacteria. Amoxicillin is an infection medicine, but it only treats bacterial infections. It doesn't work for viral infections such as common cold.
Unnecessary use of this medication may reduce its effectiveness. You can use this medicine with other prescribed drugs to treat stomach ulcers caused by bacteria H.pylori and even prevent ulcers from returning.
You can buy Amoxicillin online as it is readily available. Get Amoxicillin online from Canada Pharmacy to get a genuine product.
Directions
Amoxicillin is to be taken orally via mouth and can be taken with or without food, as advised by your doctor. It can be taken every 8 to 12 hours.
Ingredients
Ingredients include D and C Red No. 28, FD and C Blue No. 1, and FD and C Red No. 40 along with:
Gelatin
Magnesium stearate
Titanium dioxide
The dosage of this infection medicine depends on your medical condition and how you respond to treatments. Make sure to drink a lot of fluids with this medication, unless your doctor asks you not to.
To get the best results, take this medication at an evenly spaced time and make sure to take it at the same time every day.
Continue to take this medication even after the full prescribed time is finished and the symptoms disappear as stopping the medication too early will allow the symptoms to return and the bacteria to grow again.
Fact Table

Formula

C16H19N3O5S

License

US FDA

Bioavailability

95% by mouth

Legal status

US: RX Only

Chemical Name

Amoxicillin Trihydrate

Elimination half-life

61.3 minutes

Dosage (Strength)

250mg (21 tablets)

Pregnancy

Consult a doctor

Brands

Amoxil, Larotid

Protein binding

95%

PubChem CID

33613

MedlinePlus

a685001

ChEBI

2676

ATC code

J01CA04

DrugBank

DB01060

KEGG

D07452

Routes of administration

By mouth
Ingredients
Ingredients include D&C Red No. 28, FD&C Blue No. 1, and FD&C Red No. 40 along with:
Gelatin
Magnesium stearate
Titanium dioxide
Cautions
SIDE EFFECTS that may occur while taking this medication include upset stomach, vomiting and diarrhea.
Before buying Amoxicillin online, ask your doctor if you are allergic to it.
Let your doctor know about any medical history in the family, especially kidney disease.
Side Effects
Some common side effects of Amoxicillin include:
If any of these effects worsen, let your doctor know immediately. Using this medication for a long time can cause oral thrush and vaginal yeast infection. Contact your doctor immediately if you find white spots in your mouth. Some rare side effects of this infection medicine are:
Dark urine
Persistent nausea
Stomach pain
Abdominal pain
Yellowing of eyes and skin
Easy bleeding
Sore throat
Fever
A very serious allergic reaction to this medicine is rare however; if any of the above side effects appear, visit your doctor right away.
IMPORTANT NOTE: The above information is intended to increase awareness of health information and does not suggest treatment or diagnosis. This information is not a substitute for individual medical attention and should not be construed to indicate that use of the drug is safe, appropriate, or effective for you. See your health care professional for medical advice and treatment.
Product Code : 1340