Description
Desyrel Medication Uses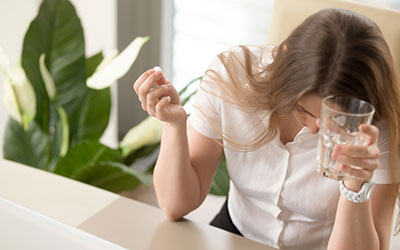 Chemical Name: Trazodone (TRAZ-oh-done)
Desyrel (Trazodone)
Desyrel belongs to the antidepressant group of drugs. It acts on the chemicals (neurotransmitters) that are present in the brain and which may be unbalanced in people with depression. The basic chemical that is disturbed in depression patients is serotonin, whose balance is restored by Desyrel. Desyrel is used to treat the major depressive disorder. In these cases, it helps by improving the mood, appetite and energy level of the patient along with reducing anxiety and insomnia that is associated with depression.
Desyrel is a prescription drug. It can be purchased online from Canada Pharmacy with quality assurance. Desyrel generic is also available.
Directions
Trazodone must be taken as prescribed by your physician. Your doctor may alter the dose according to your medical condition. Usually, it is taken orally once or twice daily after a meal or a snack or as directed by your doctor. In cases of excessive drowsiness, reduce the dose to once daily at bedtime. It might take 2 to 4 weeks for the full effect of the drug to manifest.
The tablet must be swallowed whole and should not be broken, chewed or crushed. Never stop the drug suddenly as it may cause severe withdrawal symptoms. Consult with your doctor, and he will gradually taper off the dose of Desyrel.
Ingredients
Active ingredient (usually comes in 3 strengths):
Trazodone 50mg
Trazodone 100mg
Trazodone 150mg
Cautions
To ensure your health's safety before taking Desyrel, consult your doctor if you have.
Liver, kidney disease
Heart disease
Bleeding or clotting disorder
Seizures, epilepsy
Narrow-angle glaucoma
Bipolar disorder
Pregnancy
Under 18 years
Side Effects
Stop taking Desyrel and consult your doctor if following side effects appear.
Blurred or tunnel vision
Eye pain or swelling
Seeing halos around lights
Headache with chest pain, severe dizziness, fainting, palpitations
Chest pain or pressure
Tight feeling in neck or jaw, sweating, pain in the arm
Serotonin syndrome: agitation, hallucination, fever, tachycardia, overactive reflexes, nausea, vomiting, diarrhea, loss of coordination, fainting
Hyponatremia: headache, confusion, slurred speech, severe weakness, loss of coordination, fainting
Severe nervous reaction: rigid muscles, high fever, tremors, sweating, confusion, faintness, fast or uneven heartbeat
Dry mouth
Altered sense of taste
Constipation
IMPORTANT NOTE: The above information is intended to increase awareness of health information and does not suggest treatment or diagnosis. This information is not a substitute for individual medical attention and should not be construed to indicate that use of the drug is safe, appropriate, or effective for you. See your health care professional for medical advice and treatment.
Product Code : 1866