Description
What is Ditropan XL used for?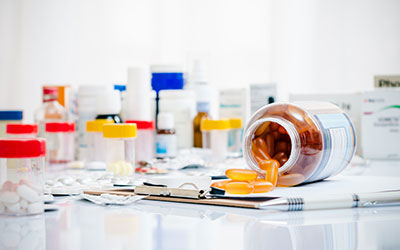 Chemical Name: OXYBUTYNIN (ox-i-BYOO-ti-nin)
Ditropan XL (Oxybutynin ER) (Lyrinel XL in the UK)
Ditropan XL is a long-acting form of oxybutynin. This means that it is an extended-release drug. Extended-release drugs release their contents gradually over a period to ensure that the drug levels remain fairly constant. Ditropan XL is used to treat overactive bladder and urinary conditions. It functions by relaxing the muscles in the bladder to help it hold urine longer, reducing problems of urgency and frequent urination. Ditropan XL can be given to children above six years old who suffer from incontinence issues, i.e., wetting due to urgent urination due to neurological disorders like Spina bifida, etc.
You can buy Ditropan XL from Canada Pharmacy for the best rates and have it delivered to your doorstep.
Directions
This drug needs to be taken orally with a glass of water or milk. It is your choice to take it with or without food. The dosage should be according to the doctor's prescription as Oxybutynin ER peaks at about 4-6 hours after taking medicine. Make sure to swallow the tablet as a whole. Do not break, chew, or cut the tablet as it may be harmful. Use the drug regularly to gain the most benefits.
Ingredients
Ditropan XL tablets contain 5 mg, 10 mg, or 15 mg of oxybutynin chloride depending on the dose required.
It further contains:
Butylated hydroxytoluene
Cellulose acetate
Hypromellose
Lactose
Magnesium stearate
Polyethene glycol
Polyethylene oxide
Polysorbate 80
Propylene glycol
Sodium chloride
Synthetic iron oxide
Titanium dioxide
Cautions
May cause dizziness, avoid driving or use machinery until fully alert.
Do not chew or cut the tablet as it can lead to all the contents being released in one go that may prove dangerous.
Not to be used by pregnant females.
Not to be used by breastfeeding mothers.
Side Effects
Many drugs have unwanted effects while being used. However, they all tend to leave once the treatment is completed and the drug is discontinued. Some possible side effects of Oxybutynin 5 mg are:
Dry mouth
Blurry vision
Dry eyes
Dizziness
Constipation
In case of noticing the following effects, seek medical help immediately.
Dehydration
Unable to urinate
Burning or pain when urinating
Eye pain
Severe abdominal cramps
IMPORTANT NOTE: The above information is intended to increase awareness of health information and does not suggest treatment or diagnosis. This information is not a substitute for individual medical attention and should not be construed to indicate that use of the drug is safe, appropriate, or effective for you. See your health care professional for medical advice and treatment.
Product Code : 1487