Description
What is Lipitor Used For?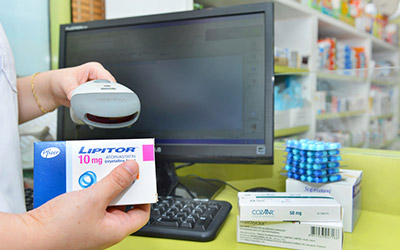 Lipitor (Atorvastatin)
Lipitor is used with diet changes to reduce the amount of cholesterol and fatty substances present in the blood. It works by slowing the production of cholesterol in the body. The buildup of cholesterol and fats along the walls of the blood vessels reduces blood flow. Therefore, the oxygen supply to the heart, brain, and other parts of the body is decreased. Lowering the blood levels of cholesterol and fats can help to prevent heart disease, angina, strokes, and heart attacks.
You can buy Lipitor online at Canada Pharmacy to get authentic medicines at best rates.
Directions
Each healthcare professional may prescribe medications differently according to a patient's medical history and condition to ensure that they are getting the best possible results. Usually, Lipitor is usually taken once a day, at the same time, with or without food. It starts working in approximately 2 weeks. It is advisable that patients check their cholesterol levels throughout their treatment, as dosage levels may be changed based on the test results.

Strictly follow the instructions indicated on your prescription label and as given by your healthcare professional. Do not change the dosage amount or duration.

You should store Lipitor at room temperature and away from moisture, heat, and light.
Ingredients
Lipitor tablets for oral administration contain Atorvastatin 10mg, Atorvastatin 20mg, Atorvastatin 40mg or Atorvastatin 80mg.

The inactive ingredients include:
Calcium carbonate
USP
Candelilla wax
Croscarmellose sodium,
Hydroxypropyl cellulose
Lactose monohydrate
Magnesium stearate
Microcrystalline cellulose
Opadry White YS-1-7040(hypromellose, polyethylene glycol, talc, titanium dioxide)
Polysorbate 80
Simethicone emulsion
Cautions
Before taking Lipitor, tell your healthcare professional if you have diabetes, a thyroid disorder, muscle pain or weakness, a history of liver or kidney disease, or if you drink more than 2 alcoholic beverages daily. Let your physician know about all the medicines you are taking. Avoid taking the medicine in case you are pregnant or breastfeeding.
Side Effects
The moderate side effects may include mild muscle pain, diarrhea, and mild nausea. In case of unexplained muscle pain, weakness or tenderness, fever or feel more tired than usual, allergic reactions, nausea and vomiting, and loss of appetite. If you pass brown or dark-colored urine, skin and whites of your eyes become yellow, or if you experience severe stomach pain or liver problems, immediately consult your physician.


IMPORTANT NOTE: The above information is intended to increase awareness of health information and does not suggest treatment or diagnosis. This information is not a substitute for individual medical attention and should not be construed to indicate that use of the drug is safe, appropriate, or effective for your pet. See your veterinarian for medical advice and treatment for your pet if you have any concerns.
Product Code : 1606