Description
Dovonex Prescribing Information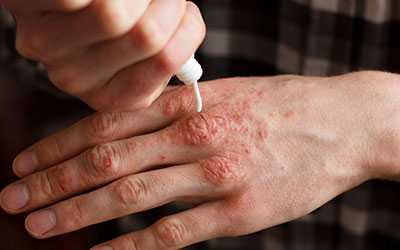 Dovonex Scalp Solution (Calcipotriol)
Calcipotriol belongs to the class of drugs known as vitamin D analogues. It is used to treat the skin condition psoriasis. Calcipotriol works by controlling the excessive production of skin cells seen in psoriasis. Too much cell growth in the skin leads to psoriasis. Psoriasis is a medical condition where the skin develops raised red patches with a layer of scaly white patches over it. The scaly patches are almost dead cells that normally flake off of the skin without being noticed. Dovonex scalp solution may be used alone or in combination with other medications such as a topical corticosteroid, cyclosporin A, or acitretin.
You can buy Dovonex Scalp solution from Canada Pharmacy.
Directions
The normal application direction of calcipotriol scalp solution is twice a day, one in the morning and then in the evening. You would need to part your hair before applying the solution to your scalp. Be careful not to allow any product to reach the face. If your doctor prescribed other medications to be used along with Dovonex scalp solution, you would have to apply them at different times of the day.
Ingredients
The Dovonex solution contains 0.005% calcipotriene in a vehicle of isopropanol (51% v/v), propylene glycol, hydroxypropyl cellulose, sodium citrate, menthol, and water.
Cautions
The following need to be taken care of when using calcipotriol scalp solution:
Limit use of calcium when using this medication.
Do not use calcium and vitamin D supplements when using Dovonex.
Rinse hands after application unless the treatment is on the hands.
For external use only, do not eat or swallow.
Avoid contact with eyes, nose, mouth, or vagina.
In case of accidental contact with these places, wash the area with plenty of water.
May cause you to sunburn easily, do not step out in sunlight or go to tanning beds when using Dovonex.
Do not use other medications on the treated area except for Dovonex.
Side Effects
There are a few possible side effects of Dovonex. These may include:
Burning or itching of the skin
Redness
Peeling off of the skin at the application site
Skin rash
More severe side effects that require immediate medical attention are as follows:
Severe burning
Skin irritation
Feeling tired and restless
Worsening of skin condition
Nausea
Vomiting
Allergic reactions causing hives, swelling of the face, shortness of breath, etc.
IMPORTANT NOTE: The above information is intended to increase awareness of health information and does not suggest treatment or diagnosis. This information is not a substitute for individual medical attention and should not be construed to indicate that use of the drug is safe, appropriate, or effective for you. See your health care professional for medical advice and treatment.
Product Code : 1493