Description
Info About Dovonex Ointment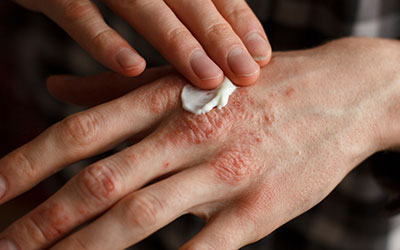 Dovonex Ointment (Calcipotriol)
Dovonex ointment contains calcipotriol. This substance is an artificial form of vitamin D. It is widely used in the growth and development of skin cells. Calcipotriol cream 0.005 is used to treat plaque psoriasis. This is a medical condition that causes red patches on the skin covered by a layer of dead skin cells. They are often painful and tend to bleed. This medicine carries out its function by slowing down the growth of skin cells.
You can buy Dovonex ointment from Canada Pharmacy today for the best medicine at low prices.
Directions
Use this medication directly onto the skin. Apply a thin layer of the medicine onto the skin and rub it gently into the skin. If you're using it in ointment form, use once daily. For foam and cream forms of calcipotriol cream 0.005, apply it twice a day. Do not use too frequently as it may lead to serious side effects. Always follow the dosage and directions of your doctor while using any medication.
Ingredients
Dovonex contains calcipotriol 0.005% as well as a synthetic vitamin D3 derivative.
Cautions
The following need to be taken care of when using calcipotriol 0.005:
Limit use of calcium when using this medication.
Do not use calcium and vitamin D supplements when using Dovonex ointment.
Rinse hands after application unless the treatment is on the hands.
For external use only, do not eat or swallow.
Avoid contact with eyes, nose, mouth, or vagina.
In case of accidental contact with these places, wash the area with plenty of water.
May cause you to sunburn easily, do not step out in sunlight or go to tanning beds when using Dovonex.
Do not use other medications on the treated area except for Dovonex.
Side Effects
There are a few possible side effects of Dovonex ointment. These may include:
Burning or itching of the skin
Redness
Peeling off of the skin at the application site
Skin rash
More severe side effects that require immediate medical attention are as follows:
Severe burning
Skin irritation
Feeling tired and restless
Worsening of skin condition
Nausea
Vomiting
Allergic reactions causing hives, swelling of the face, shortness of breath, etc.
IMPORTANT NOTE: The above information is intended to increase awareness of health information and does not suggest treatment or diagnosis. This information is not a substitute for individual medical attention and should not be construed to indicate that use of the drug is safe, appropriate, or effective for you. See your health care professional for medical advice and treatment.
Product Code : 2177