Description
Nasacort AQ Nasal Spray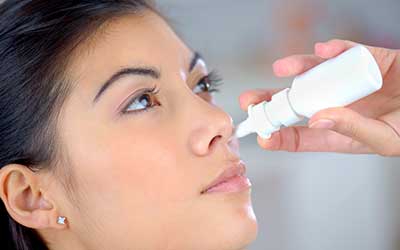 Chemical Name: TRIAMCINOLONE (trye-am-SIN-oh-lone)
Nasacort AQ (Triamcinolone)
Nasacort AQ nasal spray is a corticosteroid which is used to prevent allergy symptoms including sneezing, itching, and runny or stuffed nose. It works by reducing swelling or inflammation in the nasal passages.
You can purchase the medicine Nasacort AQ online from Canada Pharmacy and have it delivered to your doorstep without hassle.
Directions
This medication is for use (administered) in the nose. For adults, the usual dose is 2 sprays in each nostril once or twice a day or as instructed by your doctor. For children, the usual dose is 1 to 2 sprays in each nostril once daily or as instructed by the doctor. Avoid spraying it in your eyes or mouth. Gently blow your nose before using this drug. Shake the spray device well before each use. Follow the package instructions to properly prime the spray. Follow the dosage prescribed to you by the doctor carefully. Store at room temperature away from light and moisture.
Ingredients
Nasacort AQ 55 mcg contains 55 mcg of triamcinolone.
The inactive ingredients include:
Microcrystalline cellulose
Carboxymethylcellulose sodium
Polysorbate 80
Dextrose
Benzalkonium chloride
Edetate disodium
Cautions
Do not use Nasacort if you are allergic to triamcinolone acetonide or any of the other ingredients of this medicine. Talk to your doctor or pharmacist before using Nasacort if you have an infection of the nose or throat that is not treated. If you get a fungal infection while using Nasacort, stop using the spray until the infection has been treated.
Also, stop its usage if you have recently had a nose operation, or had an injury or ulcer in the nose, if you are being transferred from steroid injections or tablets to Nasacort spray or if you have had glaucoma or cataracts. Let your doctor know of all the medications to avoid adverse drug interactions. In case of an overdose, seek immediate medical help.
Side Effects
Side effects that may occur while taking this medication include a headache, nasal irritation or dryness, sore throat, sneezing, and nosebleed.
The signs of an allergic reaction to Nasacort include rash (hives), itching, swallowing or breathing problems, swelling of your lips, face, throat or tongue.
If any of these side effects continue to persist or worsen, contact your physician immediately.
IMPORTANT NOTE: The above information is intended to increase awareness of health information and does not suggest treatment or diagnosis. This information is not a substitute for individual medical attention and should not be construed to indicate that use of the drug is safe, appropriate, or effective for you. See your health care professional for medical advice and treatment.
Product Code : 1670