Description
What is Noritate 1 Cream used for?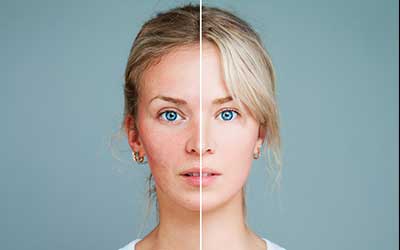 Chemical Name: METRONIDAZOLE (me-troe-NI-da-zole)
Noritate Cream
Noritate 1 cream is used on the skin to treat a certain skin disorder known as rosacea. This is a type of adult acne. This drug is also used to reduce redness, swelling and the number of pimples caused on the face by rosacea.
This is an antibiotic cream, and for the treatment of rosacea, metronidazole helps in decreasing the swelling. Some brands of this medication even include a sunscreen.
For the best Noritate cream price, make sure to visit and place your order at Canada Pharmacy.
Directions
Noritate 1 cream is supposed to be used on the skin only. Make sure that you wash and dry your hands before and after applying this medication. Also, wash the area where this drug is supposed to be applied.
Wait at least 15 minutes after washing and then apply a thin layer of this drug once or twice a day or as directed by your doctor. Once applied, wait at least 5 minutes before you put on your makeup.
Avoid using this drug around the eye area unless directed by your doctor. This drug may cause your eyes to become watery if applied too close to the eyes. If this occurs, make sure that you rinse your eye with cold water right away.
Use this drug regularly to get more benefits. Make sure to take this drug at the same time every day.
Ingredients
The ingredients include Glycerin, glyceryl monostearate, Methylparaben, Propylparaben, purified water, stearic acid, and triethanolamine.
Cautions
Let your physician know about the medical treatments and medicines you are using.
Let your doctor know if you have any allergies before using it especially to metronidazole.
Tell your doctor about the medical history of the family including vaginal bleeding of unknown causes, hormone problem, or a blood disorder.
Side Effects
Some common side effects of this drug include:
Stinging
Burning
Irritation
Dryness
Metallic taste
Nausea
Headache
If they start to get worse, let your doctor know immediately.
Keep in mind that your doctor has prescribed you this medication because its benefits to you are greater than the risk of side effects. Many people who use this medication do not have serious side effects.
However, if you undergo any serious side effects like the ones mentioned below, then notify your doctor immediately.
Rash
Itching
Swelling
Trouble breathing
Numbness of hands or feet
IMPORTANT NOTE: The above information is intended to increase awareness of health information and does not suggest treatment or diagnosis. This information is not a substitute for individual medical attention and should not be construed to indicate that use of the drug is safe, appropriate, or effective for you. See your health care professional for medical advice and treatment.
Product Code : 1693