Description
Qvar Inhaler for Asthma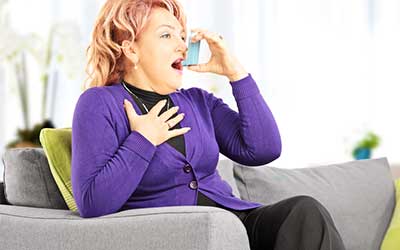 Chemical Name: beclomethasone dipropionate (be-kloe-METH-a-sone)
Qvar Inhaler, also known as Beclomethasone is a medication used for preventing and controlling asthma symptoms. This medication is a part of the corticosteroids group of drugs. Corticosteroids are steroids that are used for treating patients with asthma. It is an anti-inflammatory drug that reduces inflammation and swelling of the airways and reduces mucus production as well. It allows the airways to become less inflamed and they are less likely to react to an asthma trigger. This medication is to be regularly used to prevent respiratory issues. It is not a fast-acting drug; hence it should not be used to treat an asthma attack. In case of an asthma attack use a quick-relief inhaler that you've been prescribed instead.
This inhaler is available for purchase online at Canada Pharmacy. You can opt for the Qvar 50 inhaler or even the Qvar 100 inhaler depending on what you need.
Directions
Follow the directions prescribed by your doctor. Prime the inhaler if you're using it for the first time or if you're using it after ten days or more. Fire two shots into the air before you use it. Do not shake the inhaler and avoid getting the medicine in your eyes. Inhale the medication, place your mouth around the mouthpiece and take deep breaths. Use it according to the dosage prescribed by your doctor. Your doctor may start off with a smaller dose and might increase it later considering your symptoms.
If you've been prescribed two puffs, then make sure to wait for at least one minute before you take the second one. If you're using some other inhaler as well, then wait for one minute before you use the other one. Rinse your mouth and gargle after every use, do not swallow the water and do not wash the inhaler. Discard the inhaler after you've used up the prescribed number of dosage.
Ingredients
The active ingredient present in both Qvar 50 inhaler and Qvar 100 inhaler is Beclomethasone Dipropionate.
Cautions
Seek medical help if you happen to notice signs of an allergic reaction to the Beclomethasone Dipropionate inhaler. Some side effects of this drug include
Dry and sore throat
Hoarseness
Bad taste in the mouth
Headaches
Weakness
Signs of infections
Oral thrush
White patches on your tongue and in the mouth
Some other serious side effects include vision issues
Thinning skin
Increased urination
Slow wound healing
Troubled breathing
Side Effects
To ensure your safety, inform your doctor if you have any of the conditions listed:
If you are pregnant, planning to become pregnant, or are breastfeeding
Allergies
Cataracts
Glaucoma
Liver problems
Thyroid problems
Intestinal problems
Diabetes
Tuberculosis
Herpes
IMPORTANT NOTE: The above information is intended to increase awareness of health information and does not suggest treatment or diagnosis. This information is not a substitute for individual medical attention and should not be construed to indicate that use of the drug is safe, appropriate, or effective for you. See your health care professional for medical advice and treatment.
Product Code : 1955