Description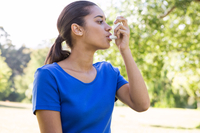 VENTOLIN HFA (Albuterol) is an inhaled medication used to treat or prevent bronchospasm. During bronchospasm, the airways of the lungs tighten and it becomes difficult to breathe. Bronchospasm may be caused by a disease like asthma or chronic obstructive pulmonary disease (COPD) or can be induced by exercise.
Albuterol and Salbutamol are different generic names for the same medication; they are both names for the generic of VENTOLIN inhaler.
Albuterol works by activating beta2-adrenergic receptors on the surface of muscle cells in the airway. Activating these receptors causes muscle cells to relax, making it easier to breathe.
Directions
The normal dose is 2 inhalations every 4 to 6 hours. Some patients may use a reduced dose.
If you are having to use your albuterol inhaler more often than prescribed, let your doctor know. Excessive use may mean that an additional medication will need to be added to improve breathing symptoms.
VENTOLIN inhalers need to be primed before their first use and when the inhaler has not been used for 2 weeks. Prime VENTOLIN by spraying at least 4 sprays into the air and then shake well. Ask your pharmacist if you need additional assistance.
The plastic actuator should be cleaned with warm water at least once each week.
Ingredients
The active ingredient in VENTOLIN is albuterol sulfate.
Asthma inhaler VENTOLIN contains the inactive propellant HFA-134a.
Fact Table

Formula

C13H21NO3

License

US FDA

Bioavailability

65%

Legal status

US: RX Only

Chemical Name

Albuterol / Salbutamol

Elimination half-life

3.8-6 hours

Dosage (Strength)

100mcg (200 doses/inhaler), 90mcg (200 doses/inhaler)

Pregnancy

Consult a doctor

Brands

Ventolin HFA, ProAir HFA, Proventil HFA

Protein binding

-

PubChem CID

46505312

MedlinePlus

a607004

ChEBI

2549

ATC code

R03AC02

DrugBank

DB01001

KEGG

D02147

Routes of administration

Inhalation
Cautions
VENTOLIN should be used with caution in patients with a history of cardiovascular disease of seizure disorders.
VENTOLIN may cause changes in blood glucose or potassium (hypokalemia).
Side Effects
Common adverse reactions of VENTOLIN may include:
Cough
Diarrhea
Extrasystoles
Laryngitis
Lung disorders
Musculoskeletal pain
Oropharyngeal edema
Tachycardia
Throat irritation
Upper respiratory inflammation
Viral respiratory infection
Buy VENTOLIN inhaler online with a valid prescription. When buying VENTOLIN inhaler, a prescription is required from your doctor.
References
IMPORTANT NOTE: The above information is intended to increase awareness of health information and does not suggest treatment or diagnosis. This information is not a substitute for individual medical attention and should not be construed to indicate that use of the drug is safe, appropriate, or effective for you. See your health care professional for medical advice and treatment.
Product Code : 1891