Description
What is Serevent Inhaler used for?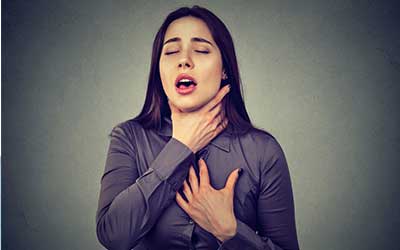 Chemical Name: SALMETEROL (sal-ME-te-role)
Salmeterol inhaler, also known as Serevent inhaler, is used to treat and decrease wheezing and trouble breathing that is caused by asthma; or any other lung disease such as chronic obstructive pulmonary disease, emphysema, or chronic bronchitis.
This medication should not be used for very long if your asthma symptoms are not being treated with other asthma drugs. Salmeterol must not be used alone for treating asthma.
This drug does not work right away and should not be used for sudden attacks of trouble in breathing.
You can purchase Serevent inhaler online from Canada Pharmacy at the best price.
Directions
Once you are prescribed and buy Salmeterol inhaler, then the inhaler must be used at a horizontal level always. Make sure to inhale this drug through your mouth. Use this drug twice a day, once in the morning and once in the evening with a 12-hour gap in between.
Never wash the mouthpiece of this inhaler or any other part of this drug.
If you are using other inhalers with this inhaler, then make sure to wait at least a minute before using the others. Do not stop using this medication without consulting your doctor. If you are using this medication only to help prevent asthma that can be brought by exercise, then make sure that you use it at least 30 minutes before exercising.
The dosage of this drug depends on the severity of your medical condition and your response to treatment.
Ingredients
It includes Salmeterol xinafoate and lactose monohydrate (contains milk proteins).
Cautions
Do let your physician know about the medical treatments and medicines you are using.
Let your doctor know if you have any allergies before using it.
Tell your doctor about the medical history of the family and your medical history.
Side Effects
Some common side effects include:
Headache
Dizziness
Lightheadedness
Insomnia
Sweating
Nausea
Vomiting
Diarrhea
Dry mouth
Throat irritation

Keep in mind that your doctor has prescribed you this medication because its benefits to you are greater than the risk of side effects. Many people who use this medication do not have serious side effects.
However, if you undergo any serious side effects as mentioned below, then notify your doctor immediately.
Chest pain
Fast or pounding heartbeats
Tremors
Shaking
Restless feeling
Skin rash
Bruising
Severe tingling
Numbness
Muscle weakness
Choking
Breathing problems
Worsening of asthma symptoms.
IMPORTANT NOTE: The above information is intended to increase awareness of health information and does not suggest treatment or diagnosis. This information is not a substitute for individual medical attention and should not be construed to indicate that use of the drug is safe, appropriate, or effective for you. See your health care professional for medical advice and treatment.
Product Code : 1797