Description
What is Trandate Medication used for?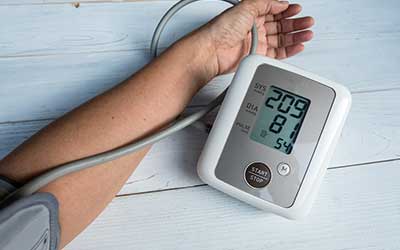 Chemical Name: LABETALOL (la-BET-a-lole)
This particular medicine is primarily used to treat high blood pressure, that is, hypertension in patients who are suffering from this. This particular medicine works primarily by lowering your blood pressure and thus, in turn, also reduces the risk of you suffering from a stroke, heart attack, or from developing kidney issues.
Moreover, this particular medicine is both a beta-blocker as well as an alpha-blocker. Combined, these two properties in this particular medicine work by preventing certain natural chemicals in the human body from taking actions that may increase your blood pressure. Thus, this then, in turn, lowers your heart rate, blood pressure, and puts less strain on your heart.
You can purchase Trandate medication from Canada Pharmacy. It is available in two forms; Trandate 100 mg and Trandate 200 mg.
Directions
Take this particular medicine as it has been prescribed to you by your doctor.
Generally, this particular medicine is taken orally two times in a day. However, dosage may vary according to your health. Generally, your doctor may get you started on this particular medicine with a low dose and then he or she may gradually increase your dosage with time. Follow the instructions of your doctor carefully.
It is claimed that for the best results, you should take this medicine at the same time every day.
Ingredients
The active ingredient found in this medicine is Labetalol.
Cautions
Inform your doctor of:
Any allergies you might have to the ingredients of this medicine or otherwise.
Pregnancy or if you are breastfeeding.
Any heart rhythm disease.
Your medical history.
Blood circulation problems.
Mood disorders.
Make sure you:
Check your blood sugar regularly or as your doctor has instructed you to when taking this particular medicine.
Inform your doctor immediately if you have increased urination or any other signs of high blood sugar.
Do not drive or use machinery.
Limit alcoholic beverages.
Cautions not listed here may also exist.
Side Effects
The side effects you should know about include:
Dizziness
Tiredness
Scalp tingling
Reduced blood flow to your hands and feet
Low heartbeat
Fainting
Blue fingers or toes
Difficulty breathing
Shortened breath
Swelling of your ankles and feet
Unexplained tiredness
Sudden weight gain
Confusion
Mood swings
Depression
Nausea
Vomiting
Dark urine
Stomachache
Abdominal pain
Rash
Itching
Swelling of either your face, tongue, or throat
Side effects not listed here may also occur.
IMPORTANT NOTE: The above information is intended to increase awareness of health information and does not suggest treatment or diagnosis. This information is not a substitute for individual medical attention and should not be construed to indicate that use of the drug is safe, appropriate, or effective for you. See your health care professional for medical advice and treatment.
Product Code : 1864