Description
Trusopt Eye Drops For Glaucoma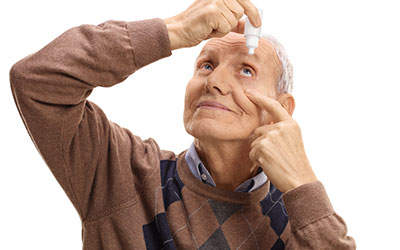 Chemical Name: DORZOLAMIDE (dor-ZOLE-a-mide)
Trusopt or dorzolamide is used to treat high pressure inside the eye due to glaucoma. This medicine works by lowering the blood pressure inside the eye to prevent blindness. It also decreases the amount of fluid in the eye and is known as carbonic anhydrase inhibitor. It can also be used for the treatment of similar eye diseases. You can purchase Trusopt eye drops online from Canada Pharmacy.
Directions
You are recommended to use this medication solely for your eyes, by using one drop in the affected eye thrice a day, or as instructed by your doctor for optimal results. Before applying eye drops, wash your hands and do not touch your other eye to avoid contamination.
If you use lenses, take them out before Trusopt's application. Tilt your head back, look upwards, and pull your lower eyelid down. Hold the dropper over your eye and place one drop. Close your eyes for two minutes and gently press. Avoid blinking or rubbing your eyes to prevent draining. Don't rinse the dropper.
Ingredients
Active: Dorzolamide HCL
Inactive: Sodium hydroxide, mannitol, citrate dehydrate, etc.
Cautions
Some medical conditions coupled with Trusopt eye drops can worsen your state. To prevent such cases, inform your doctor immediately if you have:
A history of kidney diseases and stones
A history of liver diseases
Eye infection or an eye surgery
Pregnant or breastfeeding
Any allergies
You may experience temporary blurred vision, which is why it is strongly cautioned that you avoid driving, using machinery, and other activities that require optimal vision until your doctor approves. If you develop any eye injuries, discuss with your doctor if you should continue taking these eye drops.
Side Effects
This drug has been prescribed by your specialist to ensure your best interest. You may undergo the following side effects, but they will subside over time. However, if these side effects worsen, inform your doctor immediately:
Blurred vision
Redness of the eye
Headaches
Signs of kidney stones
Yellow eyes/skin
Dark urine
Weakness and bleeding
Fever
Dizziness and allergic reactions
Trouble breathing
Rashes, itching
A persistent sore throat
Chills
Swelling
Eye discharge or pain
Eyelid swelling
If you experience abdominal pain, vision changes, vomiting and blood in the urine alongside the above-mentioned side effects; consult your specialist as soon as possible.
IMPORTANT NOTE: The above information is intended to increase awareness of health information and does not suggest treatment or diagnosis. This information is not a substitute for individual medical attention and should not be construed to indicate that use of the drug is safe, appropriate, or effective for you. See your health care professional for medical advice and treatment.
Product Code : 1878