Description
What you need to know about Aldara Cream?
Chemical Name IMIQUIMOD (i-mi-KWI-mod)
ALDARA is an immune response modifier used to treat actinic keratosis (a condition caused by too much sun exposure) on the face and scalp. It is also used to treat a minor form of skin cancer called superficial basal cell carcinoma, when surgery would not be an appropriate treatment.
ALDARA also treats genital warts that appear on the outside of the body, but this medicine is not a cure for genital warts. Imiquimod may be used in adults and children who are at least 12 years.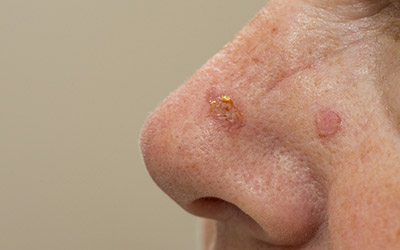 Fact Table

Formula

C14H16N4

License

EU EMA, US FDA

Bioavailability

47%

Legal status

US: RX Only

Chemical Name

Imiquimod

Elimination half-life

30 hours (topical dose), 2 hours (subcutaneous dose)

Dosage (Strength)

5% (12 sachets, 36 sachets)

Pregnancy

Consult a doctor

Brands

Aldara, Zyclara

Protein binding

N/A

PubChem CID

57469

MedlinePlus

a699015

ChEBI

36704

ATC code

D06BB10

DrugBank

DB00724

KEGG

D02500

Routes of administration

Topical
Directions
Use ALDARA exactly as directed by your doctor. Using too much of this medicine, or using it for too long can increase your risk of severe skin reactions.
Before applying ALDARA, wash your hands and wash the skin area to be treated. Allow the skin to dry for at least 10 minutes before applying the medicine. Always wash your hands after applying the medicine also. Do not use ALDARA on areas of broken, wounded, or burned skin. Wait until these conditions have healed before using ALDARA.
Cautions
To make sure you can safely take ALDARA, patients should discuss their medical history with their doctor. Before using ALDARA, inform your doctor if you:
sunburn or other skin problems
a weak immune system or autoimmune disorder
graft-versus-host disease
if you have recently been treated for actinic keratosis or genital warts with surgery or other medications
if you have recently received a bone marrow transplant or cord blood transplant
pregnant or planning on becoming pregnant
breastfeeding or planning on breastfeeding
Side Effects
Most medications can cause side effects which can be defined as an unwanted response to a medication when it is taken in normal doses. Side effects can range from mild or severe, temporary or permanent. Side effects are not experienced all patients who take this medication. Many side effects can be managed, and others may go away over time.
Common side effects include mild skin irritation, itching, dryness, flaking, scabbing, crusting, redness, or hardening of the skin where the medicine was applied; changes in the color of treated skin; headache, dizziness, chest pain, back pain; cold sores, fever blisters; cold symptoms such as stuffy nose, sneezing, sore throat; nausea, diarrhea, loss of appetite or vaginal itching or discharge.
Serious side effect may include flu symptoms such as fever, chills, body aches, tired feeling, swollen glands. When treating genital warts around the vagina, if you have severe swelling or urination problems, stop using ALDARA and call your doctor right away.
Get emergency medical help if you have signs of an allergic reaction (hives; difficulty breathing; swelling of your face, lips, tongue, or throat).

This is not a complete list of side effects and others may occur. Call your doctor for medical advice about additional side effects.


IMPORTANT NOTE: The above information is intended to increase awareness of health information and does not suggest treatment or diagnosis. This information is not a substitute for individual medical attention and should not be construed to indicate that use of the drug is safe, appropriate, or effective for you. See your health care professional for medical advice and treatment.
Product Code : 1326