Description
Chlorthalidone Use and Indications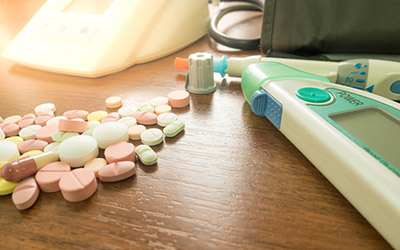 Chemical Name: CHLORTHALIDONE (klor-THAL-i-doan)
Chlorthalidone (Generic)

High blood pressure is a common ailment that affects the heart and arteries. It can harm the blood vessels of the heart, brain, and kidneys which can result in kidney failure, heart failure, or a stroke. Chlorthalidone is used to treat high blood pressure. Fluid retention is also treated with this medicine. Fluid retention is caused by kidney disease, severe liver disease, congestive heart failure, or by taking a steroid or hormone medicine.

Chlorthalidone is a diuretic or a water pill. It increases the urine flow which decreases the volume of water in the human body thus lowering the blood pressure.
Directions
This medication is usually taken once daily but follows the advice of your physician. It is best to take this medicine at least 4 to 5 hours before bedtime so that you can have uninterrupted sleep. If you take any medication for cholesterol, then keep a gap of at least 4 hours between both the medicines.

Dosage is based on the patient's response to treatment and medical condition. For high blood pressure, the starting dosage is usually Chlorthalidone 25 mg. It is best to take this medication daily to keep your blood pressure under control. Consult your doctor if you do not experience any change in your condition.
Ingredients
The active ingredient in this blood pressure medicine is Chlorthalidone.
Cautions
Before using this medication be sure to tell your doctor if you have any allergies or if you have asthma, diabetes, liver disease, gout, or kidney disease. Don't use this medication if you are allergic to any of its ingredients. Avoid drinking alcohol with this medication as it could increase the side effects. You can buy Chlorthalidone from Canada Pharmacy at affordable rates.
Side Effects
Discontinue use and consult your doctor if you experience any of these severe side effects:
Feeling light-headed, restless, or drowsy
Nausea, vomiting, and dry mouth
Less or no urination
Weakness or muscle pain
Uneven or fast heartbeat
Purple or red spots on the skin
Bleeding or easy bruising
Numbness
Clay-colored stools, dark urine, jaundice
Some less severe side effects are:
Muscle spasm
Headache
Constipation
Dizziness
Diarrhea
IMPORTANT NOTE: The above information is intended to increase awareness of health information and does not suggest treatment or diagnosis. This information is not a substitute for individual medical attention and should not be construed to indicate that use of the drug is safe, appropriate, or effective for you. See your health care professional for medical advice and treatment.
Product Code : 1408