Description
Lamisil Tablet Use and Effects: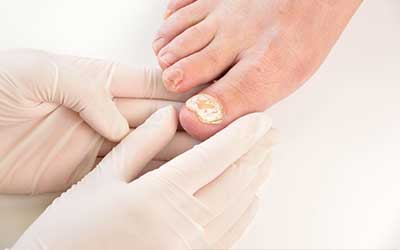 Chemical Name TERBINAFINE (TER-bin-a-feen)
Lamisil (Terbinafine)
Lamisil (terbinafine) is an antifungal drug used for the treatment of onychomycosis that causes infection on toenail or fingernail. It is caused by a dermatophyte Tinea unguium.
You can purchase Lamisil online from Canada Pharmacy and get it delivered right to your doorstep.
Directions
Lamisil tablets can be taken with or without food. Ingest the whole medicine, avoid chewing it. Don't break the tablet.

If you accidentally miss the dose take it as soon as you remember it. Don't mix the dose with the other one. The dosage of the drug depends on the age and health condition of the patient. This medicine is administered orally.
For fingernail onychomycosis: one 250 mg tablet once daily for 6 weeks
For toenail onychomycosis: one 250 mg tablet once daily for 12 weeks
Ingredients
The active ingredient is Terbinafine hydrochloride.

Inactive Ingredients are:
Colloidal silicon dioxide NF
Hydroxypropyl methylcellulose USP
Magnesium stearate NF
Microcrystalline cellulose NF
Sodium starch glycolate NF
Fact Table

Formula

C21H25N

License

US FDA

Bioavailability

Readily absorbed: 70–90%

Legal status

US: RX Only

Chemical Name

Terbinafine

Elimination half-life

Highly Variable

Dosage (Strength)

250mg (84 tablets)

Pregnancy

Consult a doctor

Brands

Lamisil, Terbinex

Protein binding

Greater than 99%

PubChem CID

1549008

MedlinePlus

a699061

ChEBI

9448

ATC code

D01AE15, D01BA02

DrugBank

DB00857

KEGG

DB00857

Routes of administration

By mouth (tablets)
Cautions
Before starting the treatment, laboratory testing is necessary for the diagnosis of onychomycosis. Liver function test must be done before the treatment to know the condition of the patient's liver.

Don't stop taking this medication without consulting your doctor. Your condition might get worse.

Avoid if you have a history of allergic reaction to oral terbinafine.

This medicine can cause hepatotoxicity. It may cause damage to the liver.

Visit your health professional regularly so he can keep a record of your condition.

Avoid suggesting it to other patients who have same symptoms as yours. It could be harmful if their doctor didn't recommend it.
Side Effects
All drugs cause some side effects. However, some cause minor and some cause major side effects. Common side effects of using Lamisil are:
A headache
Diarrhea
Rash
Upset stomach
Abnormal liver function tests
Itching
Change in taste
Nausea
Abdominal pain
Gas
Rare but severe side effects of Lamisil include:
Liver disease (possibly fatal)
Persistent nausea
Vomiting
Loss of appetite
Abdominal pain
Dark urine
Yellowing eyes/skin
Allergic reaction
Rash
Itching
Swelling (especially of the face/tongue/throat)
Severe dizziness
Trouble breathing
If you observe any side effects mentioned above, seek medical help as soon as possible.
IMPORTANT NOTE: The above information is intended to increase awareness of health information and does not suggest treatment or diagnosis. This information is not a substitute for individual medical attention and should not be construed to indicate that use of the drug is safe, appropriate, or effective for you. See your health care professional for medical advice and treatment.
Product Code : 1595