Description
Metrocream for rosacea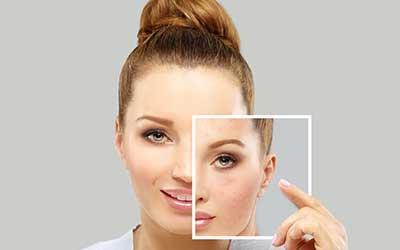 Chemical Name METRONIDAZOLE (me-troe-NI-da-zole)
This medication is used on the skin to treat a disease called acne rosacea, a skin disorder common in adults. It works to decrease redness, swelling and therefore the numerous pimples caused by acne rosacea.
This medication is an antibiotic. For the treatment of acne rosacea, metronidazole is believed to work efficiently by decreasing swelling. With the Metocream 0.75%, you can get rid of the skin disorder.
You can purchase the Metocream 0.75 cream online from Canada Pharmacy. The product will be delivered right to your doorstep without any hassle.
Directions
Metocream for rosacea is solely for the skin. Wash and dry your hands before and after applying this medication. Wash and dry the area to be treated. Wait for a quarter-hour, and then apply a thin layer of medication typically once or twice daily, or as directed by your doctor. Wait five minutes before applying cosmetics.
Avoid applying this medication around the eyes, unless directed by your doctor. Your eyes could start to water and irritability could occur if this medication is applied near the eyes. Avoid getting this medication in your eyes. If this happens, rinse your eyes with cold water.
It may take at least 3 weeks of continued used before any improvement is seen, and it may take up to 9 weeks for full results. If no improvement is seen in 3 weeks, consult your healthcare professional.
Store Metrocream at room temperature.
Keep all medicine in a safe place and out of the reach of kids.
Ingredients
The white, smooth, emollient cream contains metronidazole 0.75%.
Inactive ingredients include radical alcohol, emulsifying wax, glycerin, isopropyl palmitate, carboxylic acid and caustic soda, pure water, and sorbitol resolution.
Cautions
These factors may affect you while you use this medication:
Blood disorders
Sun exposure
Irritation of eye
Skin irritation
Also, inform your doctor:
If you are pregnant
If you are breastfeeding
Side Effects
The side effects of Metrocream are:
Cold symptoms
Difficulty in breathing
Swelling of face, lips, tongue or throat
Headache
Metallic taste in your mouth
Nausea
Numbness in your hands or feet
Redness
Runny nose
Scaly skin
Skin irritation
Dermatitis
Sore throat
Vaginal discharge
IMPORTANT NOTE: The above information is intended to increase awareness of health information and does not suggest treatment or diagnosis. This information is not a substitute for individual medical attention and should not be construed to indicate that use of the drug is safe, appropriate, or effective for you. See your health care professional for medical advice and treatment.
Product Code : 1646