Description
What is Ridaura 3mg used for?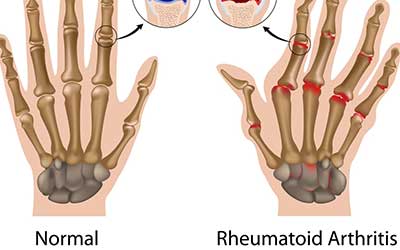 Chemical Name: AURANOFIN (au-RANE-oh-fin)
Ridaura is used, with rest and nondrug therapy, to treat rheumatoid arthritis. Auranofin is not exactly a pain reliever, but it is thought to decrease pain that occurs with arthritis by decreasing inflammation. It also reduces morning stiffness and pain as well as swelling in joints. It can also strengthen grip.
This medicine is available for purchase online from Canada Pharmacy at the best price.
Directions
The usual adult dosage of Ridaura (auranofin) is 6 mg daily, given as 3 mg twice. The initial dosage should not exceed 6 mg daily as it can increase the chances of diarrhea. If there is no or inadequate response to the initial dosage after six months, an increase to 9 mg (3 mg three times daily) may be tolerated. Store the medicine in a cool, dry place.
Ingredients
Ridaura 3 mg capsules contain 3 mg auranofin as an active ingredient.
The inactive ingredients include:
Benzyl alcohol
Cellulose
Cetylpyridinium chloride
D&C Red No. 33
FD&C Blue No. 1
FD&C Red No. 40
FD&C Yellow No. 6
Gelatin
Lactose
Magnesium stearate
Povidone
Sodium lauryl sulfate
Sodium starch glycolate
Starch
Titanium dioxide
Cautions
Do not take the medication if you have or have had any of the following medical conditions such as severe liver problems, progressive kidney disease, a severe blood disorder, bone marrow disorder. Let your doctor know of your medical history or if you are allergic to auranofin, gold or any other heavy metal. Ridaura should not be taken during pregnancy or when breastfeeding as it may harm the child.
Protect your skin when you are in the sun, especially between 10 am and 3 pm. If you are outdoors, wear protective clothing and use a 30+ SPF sunscreen. As Ridaura may cause your skin to be much more sensitive to sunlight than it is normally, this could cause a skin rash, itching, redness, or severe sunburn.
Side Effects
Side effects that may occur while taking this medication include:
Metallic taste
Loose stools or diarrhea
Stomach pain
Upset stomach
Vomiting
Gas
Hair loss

This medication may also cause mouth/lip/throat sores (stomatitis). Tell your doctor if you notice a metallic taste in your mouth.
IMPORTANT NOTE: The above information is intended to increase awareness of health information and does not suggest treatment or diagnosis. This information is not a substitute for individual medical attention and should not be construed to indicate that use of the drug is safe, appropriate, or effective for you. See your health care professional for medical advice and treatment.
Product Code : 1781