Description
Generic Prednisone 5mg Uses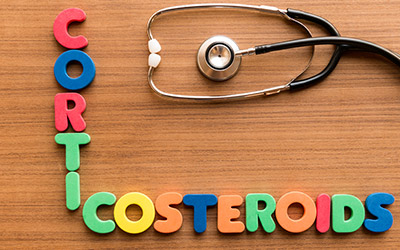 Chemical Name: PREDNISONE (PRED-ni-sone)

Prednisone (Generic)
Prednisone 5 mg is from the class of drugs known as corticosteroids. It is used in treating various conditions such as serious allergic reactions, skin diseases, arthritis, blood disorders, eye problems, cancer and even immune system disorders. It works as an immunosuppressant that works by reducing the body's immune system response to symptoms caused by the different disease to prevent inflammation, swelling and allergic reactions.
You can purchase Prednisone online from Canada Pharmacy and get it delivered to your doorstep. Quality of the product is ensured. Your ordering information remains secure with the pharmacy.
Directions
The medicine needs to be taken orally with a full glass of water. You may choose to take it with food or a glass of milk as well to avoid stomach upsets. The dosage of Prednisone depends on the patient's medical condition and the doctor's prescription. For the liquid form of this medicine, make sure to measure the precise quantity with a measuring cup or spoon. In case only one dose is prescribed, make sure you take it in the morning before 9 A.M.
Ingredients
Generic Prednisone contains 5 mg, 10 mg or 20 mg of Prednisone, depending on the dosage form.
It also contains USP (anhydrous) as well as anhydrous lactose, colloidal silicon dioxide, crospovidone, docusate sodium, magnesium stearate and sodium benzoate.
Prednisone USP 20 mg tablets also contain FD&C Yellow No. 6.
Cautions
The reduced ability of the immune system may make you more susceptible to diseases.
Keep away from infected people such as those who have flu, cold, etc.
Make sure you wash your hands well to prevent the spread of infection.
Do not get live vaccines when using this medication.
May lead to stomach bleeding, seek medical help immediately if this happens.
Limit use of alcohol as it can increase the risk of stomach bleeding.
Pregnant women should use Prednisone only by a doctor's recommendation.
Breastfeeding mothers need to consult a doctor before using Prednisone.
Side Effects
Few side effects of Prednisone 5 mg that you might experience are mentioned below:
A headache
Dizziness
Nausea
Stomach upset
Abdominal pain
Bloating
Increased sweating
Trouble sleeping
Mood swings
IMPORTANT NOTE: The above information is intended to increase awareness of health information and does not suggest treatment or diagnosis. This information is not a substitute for individual medical attention and should not be construed to indicate that use of the drug is safe, appropriate, or effective for you. See your health care professional for medical advice and treatment.
Product Code : 1987