Description
Tazorac Cream & Gel For Acne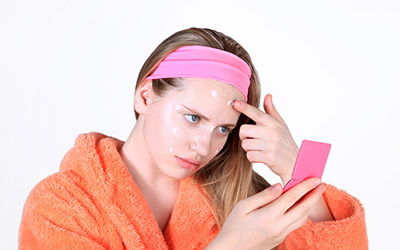 TAZORAC is a compound similar to vitamin A. It helps the skin to renew itself more quickly and may improve the appearance and texture of skin. It comes in the form of topical gel and cream and is used to treat plaque psoriasis (psoriasis with scaly patches) and to treat facial acne.
It is also used to reduce the appearance of fine wrinkles on the face, mottled light and dark skin patches on the face, and benign facial lentigines (noncancerous freckles).This medicine is a retinoid used to treat plaque psoriasis and acne. It may also be used to treat other conditions as determined by your doctor.
Fact Table

Formula

C21H21NO2S

License

US FDA

Bioavailability

-

Legal status

US: RX Only

Chemical Name

Tazarotene

Elimination half-life

19 hours

Dosage (Strength)

0.05% gel (30 grams)0.05% cream (30 grams), 0.10% cream (30 grams)

Pregnancy

Consult a doctor

Brands

Tazorac

Protein binding

Greater than 99%

PubChem CID

5381

MedlinePlus

a616052

ChEBI

32184

ATC code

D05AX05, D05AX55

DrugBank

DB00799

KEGG

D01132

Routes of administration

Topical
Directions
Use TAZORAC exactly as directed by your doctor. Wash your hands before and after applying this medication (unless affected areas are on the hands).
TAZORAC is usually applied once daily at bedtime. To apply, cleanse the skin with a gentle cleanser and allow it to dry completely (20-30 minutes). Apply a thin film of TAZORAC cream to the affected skin. Avoid applying the medication to unaffected areas. If medication accidentally gets on unaffected areas, wash it off. Application of this medication may cause a passing feeling of burning or stinging. If irritation is excessive, stop using and contact your doctor.
Do not cover the area after applying fluorouracil topical. This could cause too much medicine to be absorbed by the body and could be harmful. If a covering is needed, ask your doctor if a porous gauze dressing may be used.
Ingredients
Chemical Name: TAZAROTENE (taz-AR-oh-teen)
Cautions
To make sure you can safely take TAZORAC, patients should discuss their medical history with their doctor. Before using TAZORAC, inform your doctor if you:
are sensitive to sunlight
spend a considerable amount of time in the sun
have eczema, sunburn, or another skin condition
are taking vitamin A
lentigo maligna (a type of skin cancer)
are using other prescription or over-the-counter medicines on your skin
are taking any other prescription or over-the-counter medicines, including vitamins and herbal supplements

Do not use TAZORAC if you are pregnant or if you could become pregnant because it is known to cause birth defects in an unborn baby. It is not known whether TAZORAC topical passes into breast milk. Do not use TAZORAC topical without first talking to your doctor if you are breast-feeding a baby.
Your skin may be more sensitive to weather extremes such as cold and wind during treatment with TAZORAC topical. Protect your skin with clothing and use a moisturizing cream or lotion as needed.
Side Effects
Most medications can cause side effects which can be defined as an unwanted response to a medication when it is taken in normal doses. Side effects can range from mild or severe, temporary or permanent. Side effects are not experienced all patients who take this medication. Many side effects can be managed, and others may go away over time.
Common side effects include skin burning, warmth, stinging, tingling, itching, redness, swelling, dryness, peeling, or irritation while using TAZORAC topical. If these side effects are excessive, talk to your doctor. You may need a lower dose or less frequent applications of TAZORAC.
Serious side effects are not likely to occur. Stop using TAZORAC and seek emergency medical attention if you experience an allergic reaction (shortness of breath; closing of the throat; swelling of the lips, face, or tongue; or hives).
This is not a complete list of side effects and others may occur. Call your doctor for medical advice about additional side effects.
IMPORTANT NOTE: The above information is intended to increase awareness of health information and does not suggest treatment or diagnosis. This information is not a substitute for individual medical attention and should not be construed to indicate that use of the drug is safe, appropriate, or effective for you. See your health care professional for medical advice and treatment.
Product Code : 1829