Description
Metformin Uses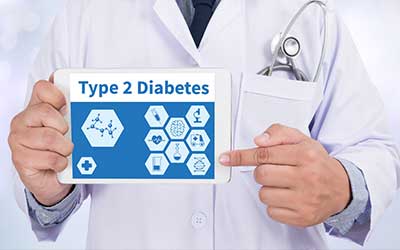 Chemical Name: METFORMIN (met-FOR-min)
Glucophage is a TABLET.


Glucophage (Metformin)

Glucophage is used to stabilize the amount of sugar in the blood (blood glucose) in people who suffer from diabetes mellitus. Metformin generic is administered with a proper exercise and diet, alone or possibly in combination with other medications to control high blood sugar and diabetes. It is generally used in individuals with type 2 diabetes.

Metformin generic functions by facilitating to reestablish your body's appropriate response to the insulin produced naturally. It also cuts the amount of sugar produced by the liver, and that is absorbed by the intestines/stomach.

Metformin 500 mg controls high blood sugar which eventually prevents:
Kidney impairment
Impaired vision
Nerve complications
Damage to limbs
Sexual function difficulties.
Risk of a heart stroke or attack.
You can purchase Glucophage from Canada Pharmacy.
Directions
The dose of Glucophage 500mg will differ from patient to patient. Follow your doctor's instructions and the guidelines provided on the label. Take Glucophage 500mg by mouth (orally) with a meal, 1 to 3 times, at the same time every day. You are required to drink plenty of liquids while consuming Metformin 500 mg. Your consultant can increase or decrease the quantity of the dose, depending on the levels of your blood glucose.
Ingredients
Each Glucophage 500mg tablet contains:

Active Ingredients:
Inactive Ingredients
Povidone
Magnesium stearate
Hypromellose
Sodium carboxymethyl cellulose
Microcrystalline cellulose
Fact Table

Formula

C4H11N5

License

EU EMA, US FDA

Bioavailability

50-60%

Legal status

RX Only

Chemical Name

Metformin

Elimination half-life

4-8.7 hours

Dosage (Strength)

1% (30 grams), 2.5% (50 grams)

Pregnancy

Consult a doctor

Brands

Glucophage, Glucophage XR, Fortamet, Glumetza, Riomet

Protein binding

Minimal

PubChem CID

4091

MedlinePlus

a696005

ChEBI

6801

ATC code

A10BA02, A10BD23, A10BD02, A10BD18, A10BD11, A10BD25, A10BD22, A10BD14, A10BD16, A10BD17, A10BD05, A10BD15, A10BD07, A10BD10, A10BD13, A10BD20, A10BD08, A10BD03

DrugBank

DB00331

KEGG

D04966

Routes of administration

By mouth
Cautions
Before taking Glucophage, inform your clinician or doctor if you have any other medical conditions and are taking any medicines for them. Metformin 500 mg consists of inactive ingredients that can cause adverse reactions. If you experience any of the side effects listed above, seek help immediately.

If you are pregnant, Metformin generic should be consumed only if it is absolutely necessary. Talk about the dangers and advantages of the medicine with your doctor.

Metformin 500 mg can impact the menstrual cycle and escalate the chances of getting pregnant. It also passes into the breastmilk, so if you are a nursing mother, you may want to talk to your doctor before starting this medication.

Limit alcohol consumption while consuming Glucophage as it may increase the risk of developing low blood sugar and lactic acidosis.
Side Effects
Glucophage benefits most patients with diabetes. However, it may cause undesirable side effects in some people. The adverse reactions of Glucophage are:
Nausea
Weakness
Vomiting
Muscle pain
Gas
Stomach bloating
Diarrhea
Dizziness
Sleepiness
Irregular heartbeat (fast or slow)
Headache
Jitters and shivering
Hunger
Sweating
Confusion
Rashes
Loss of appetite
Taste troubles
IMPORTANT NOTE: The above information is intended to increase awareness of health information and does not suggest treatment or diagnosis. This information is not a substitute for individual medical attention and should not be construed to indicate that use of the drug is safe, appropriate, or effective for you. See your health care professional for medical advice and treatment.
Product Code : 1552