Description
K-Dur Medication Uses: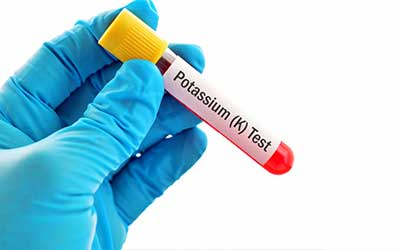 K-DUR
K-Dur generic is a mineral supplement used to treat or prevent low amounts of potassium in the blood. K Dur medication contains potassium chloride, which is a mineral that is found in many foods. Potassium chloride is needed for several functions of the body, especially the beating of the heart.
Potassium levels can be low as a result of a disease or from taking certain medicines, or after a prolonged illness with diarrhea or vomiting. K-Dur can be purchased online from Canada Pharmacy.
Directions
This medication must not be taken by those who have high levels of potassium in their blood, or those who are using a potassium-sparing diuretic.

Your blood will often be tested to make sure that the medication is working for you. Your heart rate may be checked through an ECG. These tests will help your doctor determine how long you will need to continue taking this medication.

Your dosage will be according to the prescription provided by your doctor. You must not stop taking this medicine once you have started taking it. Consult your doctor before stopping the use of K-Dur. If you stop taking the medication without consulting with your doctor, your condition might worsen.

The K-Dur tablets are not to be crushed, chewed, broken or sucked on for an extended release. Sucking on the tablets might irritate your mouth or throat. It would be best to take this medication either with food or after a meal. If you are having difficulty swallowing the K-Dur tablet, you can dissolve the tablet in water.

Store it at room temperature. Do not take 2 doses at once.
Ingredients
K-Dur includes 1500 mg potassium chloride.
Cautions
Tell your doctor or pharmacist if you have any allergies.

Tell your doctor your medical history, especially of: heart problems, kidney problems, high levels of potassium in the blood.
Side Effects
Serious side effects of potassium include:
Uneven heartbeat
Muscle weakness
Limp feeling
Severe stomach pain
Numbness or tingling in your hands, feet, or mouth.
Hives
Difficulty breathing
Swelling of your face, lips, tongue, or throat.
Stomach bleeding - bloody or tarry stools, coughing up blood or vomit that looks like coffee grounds.
IMPORTANT NOTE: The above information is intended to increase awareness of health information and does not suggest treatment or diagnosis. This information is not a substitute for individual medical attention and should not be construed to indicate that use of the drug is safe, appropriate, or effective for you. See your health care professional for medical advice and treatment.
Product Code : 92