Description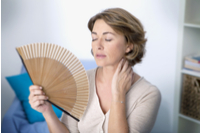 PREMARIN cream (conjugated estrogens) is a medication prescribed to treat atrophic vaginitis (thinning, drying, and inflammation of the vaginal walls) and kraurosis vulvae (shrinkage of the skin of the vagina and vulva). PREMARIN cream may also be prescribed to treat dyspareunia (pain or difficulty during intercourse).
After menopause, the levels of circulating estrogen decreases. Additionally, different types of estrogens are present than pre-menopause. PREMARIN works by increasing levels of the levels of certain estrogens and decreasing circulating luteinizing hormone (LH) and follicle-stimulating hormone (FSH). Increasing levels of estrogen help to maintain secondary sexual characteristics.
Directions
When treating atrophic vaginitis or kraurosis vulvae, the typical dosage of PREMARIN is 0.5 g once daily intravaginally for 7 days on and 21 days off. Use the included applicator to measure the appropriate dose.
When treating dyspareunia, the typical dose is 0.5 g twice weekly.
Ingredients
The active ingredients in PREMARIN cream are conjugated estrogens - sodium estrone sulfate, sodium equilin sulfate, 17-alpha-dihydroequilin, 17-alpha-estradiol, and 17-beta-dihydroequilin.
The inactive ingredients include benzyl alcohol, cetyl alcohol, cetyl esters wax, glycerin, glyceryl monostearate, mineral oil, methyl stearate, and white wax.
Fact Table

Formula

C22H19N3O4

License

US FDA

Bioavailability

Varies

Legal status

US: RX Only

Chemical Name

Conjugated Estrogens

Elimination half-life

Estrone: 26.7 hours, Estrone (BA): 14.8 hours, Equilin: 11.4 hours

Dosage (Strength)

0.625mg/g x 14 grams (1/3 tubes), 0.625mg/g x 30 grams (1 tube)

Pregnancy

Consult a doctor

Brands

Premarin Cream

Protein binding

High

PubChem CID

656613

MedlinePlus

-

ChEBI

-

ATC code

G03CA57

DrugBank

DB00286

KEGG

D04070

Routes of administration

Topical
Cautions
Estrogens have been shown to increase the risk of stroke and deep vein thrombosis (DVT) in postmenopausal women. The increased risk has been shown with daily oral estrogen supplements, and the risk is probably lower for topical formulations.
Daily oral estrogens have also been shown to increase the risk of myocardial infarction (heart attack), invasive breast cancer, pulmonary emboli, and uterine cancer. This risk is probably not as great for topical formulations.
Due to the increased risk of the above-listed health conditions, PREMARIN cream should be used for the shortest amount of time at the lowest possible dose.
Speak to your doctor for a full list of cautions before using PREMARIN cream.
Side Effects
The most common side effects of PREMARIN cream include:
Abdominal pain
Back pain
Mastalgia
Pain
Vaginitis
Vasodilation
Weakness

Speak with your doctor for a full list of possible side effects. Systemic side effects may also occur.
Click the links below to jump to the section of the FAQ you want to learn more about.
How does Premarin Cream Work?
Hormonal levels for certain hormones drop as a woman becomes menopausal. Vaginal atrophy and dyspareunia occur because the lack of sufficient levels for one those hormones – estrogen – promotes less natural lubrication of the vaginal walls as the body no longer foresees the possibility of a pregnancy. Vaginal walls become thinner over time too. Premarin provides a mixture of estrogen hormones to replenish those levels and promote better lubrication so that a woman is able to enjoy intimacy with her partner.
Can Personal Lubricants Be Used in Place of Premarin Cream?
The can be used for temporary relief from painful sex during menopause, but using a prescription menopause treatment medication like Premarin is a better choice for women who find sex painful during menopause. Providing conjugated estrogens provides more long-term dyspareunia relief and treatment for vaginal dryness, something which can continue for women after they've finished menopause. Women may also find that their symptoms are more severe periodically.
How Often Should I Apply Premarin Cream?
The dosage frequency for Premarin Cream will be indicated in your prescription and based on your doctor's recommendation depending on the severity of these menopause symptoms. Treatment objectives will also determine how often to apply Premarin:
For dyspareunia or painful sex treatment:
Apply 2x per week or in a cyclic regimen of 21 days of therapy with 0.5mg dose followed by 7 days off therapy and not applying the cream until the next week begins to start the 28-day cycle again. This will be explained in your prescription
For vaginal atrophy treatment (VVA):
Apply in a cyclic regimen of 21 days of therapy (starting at 0.5mg dose with dosage adjustments made on level of effectiveness and response according to doctor and prescription) followed by 7 days off therapy and not applying the cream until the next week begins to start the 28-day cycle again. This will be explained in your prescription.
How Long Will Tube of Premarin Conjugated Estrogens Cream Last?
As with all medicated creams, dosage strength and frequency of application will determine how long one tube of the medication will last for the user. Using standard Premarin cream dosage and treatment regimen most women will find one tube of Premarin Cream lasts them around 6 months. You can discuss this with your dispensing pharmacist if you would like to know more.
How Long Until I Experience Results from Using Premarin Cream?
Most women will begin to see results from using Premarin Cream and less vaginal dryness or pain during sex at around the 12 week (3 month) point from beginning treatment. It is important to take your medication exactly as directed and consistently in order to have these expectations.
Is Premarin Cream Available in a Generic?
Premarin Cream is not available in a generic equivalent at this time, but a generic conjugated estrogens cream may be available in the future. You can order Premarin Cream online from Canada Pharmacy and pay less for branded Premarin and likely pay significantly less than you would at your local pharmacy.
Is Premarin Cream Suitable for All Women?
No, it is not. Women who have a history of unusual vaginal bleeding, cancer, heart attack or stroke, or blood clots will not be suitable for using Premarin cream. Women who have or at risk of gallbladder disease or who are taking thyroid medication may also not be suitable for this medication. All of this will be determined based on your doctor's professional opinion.
What are Common Premarin Cream Side Effects?
Common Premarin Cream side effects include headache, pelvic or breast pain, vaginitis or vaginal bleeding. Most women only have mild side effects if any when using Premarin for menopause symptoms relief.
References
IMPORTANT NOTE: The above information is intended to increase awareness of health information and does not suggest treatment or diagnosis. This information is not a substitute for individual medical attention and should not be construed to indicate that use of the drug is safe, appropriate, or effective for you. See your health care professional for medical advice and treatment.
Product Code : 1734